BY MICHON LINDSTROM KENTUCKY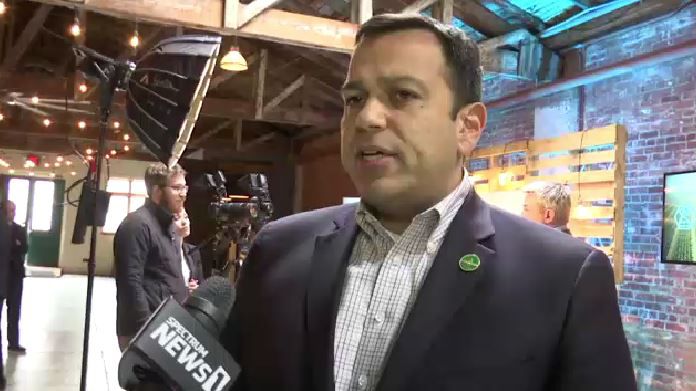 Gov. Matt Bevin's running mate Sen. Ralph Alvarado says he envisions he'll play a crucial role between the governor's office and the General Assembly.
The relationship between the governor and the legislature at times seems strained–despite the House, Senate and Executive Branch being under one party control.
Alvarado thinks if he is elected Lieutenant Governor he'll be able to help bridge that gap.
"I think I can be a liaison across the state, also with the legislature itself," said Sen. Alvarado. "I have a lot of experience in how the process works and I think he probably valued that in my candidacy potentially for him as well. I'm looking forward to being almost somewhat of an ambassador for him to the legislature. I have a lot of relationships on both sides of the aisle, and in both chambers."
Sen. Alvarado envisions that he'll be able to bring the governor's agenda to legislators and negotiate on legislation the governor wants to see passed.
As a sitting Senator, Alvarado doesn't foresee the statewide campaign getting in the way of this years session, or his relationship with other lawmakers.
"I think it's important to me to let my fellow legislators know that if they have concerns with that, that they can express their concerns, and not be worried about a breach of confidentiality with that, I think that's very important in the legislature in building that trust," said Sen. Alvarado. "I know who I am, I think my fellow colleagues know who I am, they know my approach to things and I don't take any of the time I have in office for granted."
As Jenean Hampton made history as the first African-American statewide office holder in Kentucky. Sen. Alvarado will make history in his own right if elected. Alvarado became the first Hispanic elected to the Kentucky General Assembly, and if Gov. Matt Bevin is re-elected, Alvarado will become the first Hispanic to hold statewide office in Kentucky. Alvarado says it's an honor for these distinctions, and wants to continue to break barriers.
"I'm hoping it will inspire a lot of young men and women who might look different say hey, we belong here too, our voice is going to matter in things, and I hope it will inspire them to be the second Hispanic who will run for statewide office or the state legislature," he said.
Gov. Bevin announced Sen. Alvarado would be his running mate for his 2019 gubernatorial bid on Friday.