by Chris Otts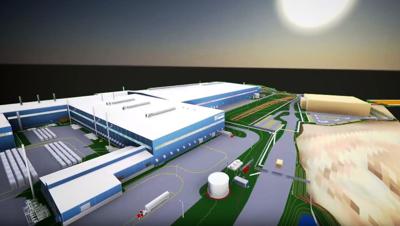 LOUISVILLE, Ky. (WDRB) — Braidy Industries is telling potential investors that the aluminum mill it plans to build in north east Kentucky will open in 2021, not in 2020 as previously projected.
The change, which the company called a "minor adjustment to the construction schedule," comes in the latest version of an offering statement Braidy Industries filed with securities regulators earlier this month.
While still a private company, Braidy Industries is trying to sell $500 million in newly issued stock by March 31 so it can finance construction of the $1.7 billion aluminum mill planned for Ashland.
Kentucky taxpayers became early investors in Braidy Industries, founded by Florida entrepreneur Craig Bouchard, in May 2017. Gov. Matt Bevin's administration used $15 million in public money to buy stock during the company's first capital offering two months after its incorporation. The public investment was part of an effort to land Braidy's promised 600 high-paying jobs in an economically struggling region of the state.
The company raised about $5 million from other investors at the time Kentucky bought in, and it raised another $75 million in 2018, according to securities filings.
But Braidy Industries needs much more – about $500 million – in investor money before it can obtain loans necessary for the mill's construction, the company has said. So far, the company has disclosed raising $12.2 million toward the $500 million goal, while twice extending the deadline of the stock offering.
In the latest version of its offering statement filed Jan. 24, Braidy Industries says it "currently anticipates a 2021 commencement of operations" for the aluminum mill, called "Braidy Atlas."
In three previous versions of the document, filed as recently as Dec. 31, the company has said the mill is anticipated to start operations in 2020.
Braidy Industries on Wednesday posted answers to a reporter's questions on NetCapital, the online portal where mom-and-pop investors can buy shares in the company.
"Any large industrial project will have some adjustments of timeline, but any adjustments that we may make to our construction schedule are in-line with our hiring plan and our customer agreements," the company said on the portal.
Braidy Industries also said it always projected hiring for the mill in 2020 while "full operations" would not begin until 2021. "This has remained consistent since our announcement, even as our project has evolved significantly over time," the company said.
Braidy Industries could be forced to repay Kentucky's $15 million with interest under certain conditions, including if the company fails to "invest" at least $1 billion in the mill by Dec. 31, 2020.
The latest version of the offering statement also no longer mentions two financial institutions that Braidy Industries had previously been named as potential financing partners, Deutsche Bank and KfW Development Bank.
Braidy Industries did not directly answer when asked if those two companies are still involved. Spokespeople for the financial institutions did not immediately respond to requests for comment.
"The interest for leading our equity and bank groups accelerated and became competitive due to, among other things, receiving our Letter of Substantial Completion from the Department of Energy," the company said, referring to its application for $800 million in low-cost financing for the mill from the federal government. "We are very happy with the progress and will continue to place ourselves in the position to secure the most competitive and economical financial package offered by the best-suited partners for each stage of our project."
Reach reporter Chris Otts at 502-585-0822, cotts@wdrb.com, on Twitter or on Facebook. Copyright 2019 WDRB News. All rights reserved.