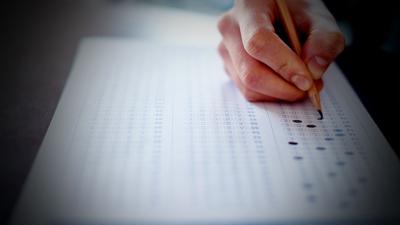 LOUISVILLE, Ky. (WDRB) – Kentucky public schools will not be administering standardized tests for the 2019-20 school year after the U.S. Department of Education approved its waivers to skip the accountability exams during the novel coronavirus pandemic.
The Kentucky Department of Education submitted the waiver request Friday, the same day officials with the U.S. Department of Education hosted a conference call with states regarding its testing waivers.
Gov. Andy Beshear also extended his call for schools across the state to extend their closures until at least April 20 on Friday as the state, like others, tries to limit the spread of COVID-19.
KDE received word from the federal agency on Saturday that its waiver request appeared to meet statutory requirements and that formal approval will come in the weeks ahead. KDE formally announced the cancellation of K-PREP testing on Monday.
"You may begin to implement the waivers while we process the formal approval," the U.S. Department of Education wrote to Kevin Brown, Kentucky's interim education commissioner, on Saturday.
"We are very clear-eyed about the fact that students and families, teachers and school leaders across America are facing unprecedented disruption in their learning and their lives," U.S. Secretary of Education Betsy DeVos said on the conference call, according to KDE.
Kentucky's testing waiver allows the state to cancel K-PREP exams for the 2019-20 school year and forgo federal school accountability requirements, such as identifying schools for targeted and comprehensive support and improvement.
The waiver requires schools previously identified for TSI and CSI to maintain those statuses for the 2020-21 and continue to receive any supports and interventions deemed necessary by their improvement plans, according to a copy of the waiver provided by KDE.
Jefferson County Public Schools had the lion's share of Kentucky schools identified for CSI based on 2018-19 accountability scores with 35 out of 50 across the state.
JCPS is among school districts heeding Beshear's guidance to remain closed until April 20, which is three weeks more than his initial two-week recommendation.
Brown has directed districts to plan to utilize non-traditional instruction through May 1 and said during a conference call with school superintendents that KDE would automatically grant schools to use up to 30 non-traditional instruction days.
The 10-day cap on the program was lifted in Senate Bill 177, an emergency relief bill for schools that is awaiting Beshear's signature. The governor said Monday that he planned to sign the bill into law.
JCPS Superintendent Marty Pollio told reporters Friday that there's "a distinct possibility" that schools will remain closed to in-person instruction for the rest of the 2019-20 school year. The district is moving toward non-traditional instruction and plans to distribute some 25,000 Chromebooks to families of students who qualify for free or reduced-price meals.
"We're planning and anticipating that it could be much longer than that and even possibly the rest of the year," Pollio said Monday during an appearance on WDRB News. "We know that's a possibility as well."
Copyright 2020 by WDRB Media. All rights reserved.