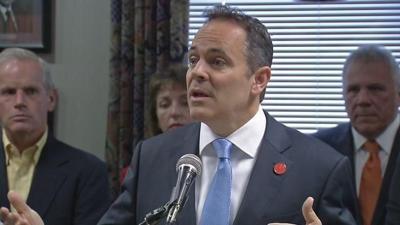 LOUISVILLE, Ky. (WDRB) — Brutally cold temperatures are about to move into the Louisville area.
The city of Louisville will see single-digit air temperatures Wednesday morning with a windchill approaching 20 below zero.
When asked by Terry Meiners on 840 WHAS on Tuesday about schools closing Wednesday due to the cold weather, Kentucky Gov. Matt Bevin wasn't impressed.
"C'mon now. I mean, there's no ice going with it or any snow," Bevin said. "I mean, what happened to America? We're getting soft, Terry. We're getting soft."
Bevin immediately received backlash online from people who viewed his comments as insensitive.
Chris Brady, who sits on the JCPS board of education, called it an example of entitlement:
Doug Stafford, the chief strategist for Kentucky Sen. Rand Paul, too Bevin to task as well:
"I do appreciate it's better to err on the side of being safe," Bevin added. "And I am being slightly facetious. But it does concern me a little bit that in America, on this and any number of other fronts, we're sending messages to our young people that if life is hard you can curl up in the fetal position somewhere in a warm place and just wait until it stops being hard. And that just isn't reality. It just isn't."
Copyright 2019 WDRB Media. All Rights Reserved.