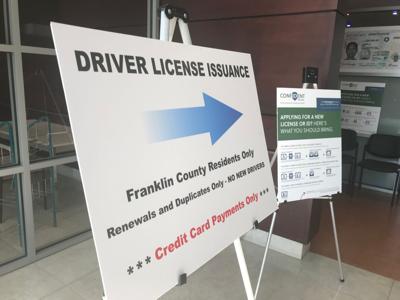 LOUISVILLE, Ky. (WDRB) – Kentucky expanded its Real ID rollout on Wednesday, adding Henry County to the small but growing list of counties whose residents can apply for the beefed-up driver's licenses.
The Kentucky Transportation Cabinet announced that its Frankfort headquarters now will accept applications from people living in Henry County. The office, at 200 Mero Street, also takes requests from residents of Owen, Franklin, Anderson and Scott counties.
Henry is the first county in the Louisville metro area to be added. The Frankfort office is among the first of possibly as many as 30 regional centers where Kentuckians will be able to apply for the credentials, which can be used to access some federal facilities and board domestic flights.
The Woodford County Circuit Court Clerk's office also is handling Real ID applications.
Kentucky faces an October 2020 deadline to have the Real IDs available. At that time, the Transportation Security Administration and other U.S. agencies no longer will accept Kentucky's current driver's licenses; instead, a Real ID or a passport or other valid federal ID will be needed to get on a plane or enter those facilities.
The Kentucky Transportation Cabinet, which is overseeing the program, had been working for years to make the application process available in each of the state's 120 counties at circuit clerks' offices.
But facing concerns from the clerks, state officials decided in September to scrap that approach and devise a regional model. Now, plans call for offices in 12 cities across the state during 2020 and possibly more than double that number in the future.
In Louisville, Jefferson County Circuit Clerk David Nicholson's office would use existing driver's license bureaus, such as the Bowman Field office. Kentucky Vehicle Regulation Commissioner Matt Henderson told lawmakers last month that he hopes the Louisville locations can open in early 2020.
Lawmakers first must pass a bill allowing the regional approach when they convene in January.
The initial locations include Paducah, Madisonville, Bowling Green, Elizabethtown, Louisville, Lexington, Florence, Somerset, Manchester, Jackson, Prestonsburg and Morehead.
The Paducah, Bowling Green and Somerset offices are likely to be the first that open, Henderson has said.
He also indicated that the longest drive to get to one of the 12 application sites would be more than an hour — in southeastern Kentucky. It would take 40 to 50 minutes to drive from New Castle, the Henry County seat, to the Transportation Cabinet's office.
Previous:
Real ID offices in Louisville could open in early 2020
Kentucky eyeing 12-18 Real ID locations across state, officials say
Kentucky halts county-by-county Real ID rollout amid concerns
Reach reporter Marcus Green at 502-585-0825, mgreen@wdrb.com, on Twitter or on Facebook. Copyright 2019 WDRB Media. All rights reserved.