by Chris Otts
Louisville's largest public company looks to regain its footing in its main business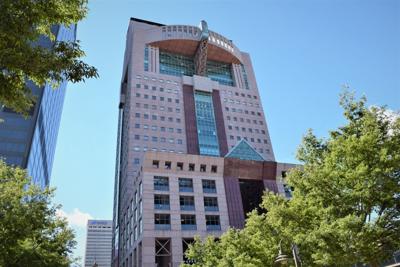 LOUISVILLE, Ky. (WDRB) — Humana Inc. on Thursday promised investors it will regain its footing in Medicare Advantage, the company's main business, while growing its adjusted profits at a 14% annual rate over the next three years.
The linchpin in the Louisville-based health insurer's plan involves returning to industry-leading growth rates in Medicare Advantage after Humana added a surprisingly low number of seniors to its plans in 2022. This year's lackluster growth sent Humana's stock into a tailspin in January, from which it has since recovered.
Humana covers about 4.5 million people in its individual Medicare Advantage plans, which is only about 5% more than last year, far below the growth of the overall industry.
Thanks to demographic trends, Medicare Advantage is the fastest growing area of healthcare. About 29 million seniors chose to get their government-funded Medicare benefits through private companies like Humana, and the market is expected to reach 42 million people by 2030.
But more traditional insurers and new players are piling into Medicare Advantage and trying to take business from the established incumbents, mainly Humana and United Healthcare.
Humana promised investors on Thursday that its 2023 Medicare growth will significantly improve and that it will match or exceed the industry growth rate by 2024. The company grew its Medicare ranks by 11% annually from 2017 to 2021, higher than the industry average of 9%.
"We are committed to growth greater than the industry. We have the capabilities. … We have the leading positioning in the marketplace. We have the brand. So, we know we can do it," Humana CEO Bruce Broussard said during the question-and-answer session of the company's three-hour "Investor Day" presentation.
It's a goal that's not unique to Humana, however.
"At this point, essentially every major MCO (and some emerging disruptors) are talking about growing at or above the industry in Medicare Advantage," Bank of America analysts said in an Aug. 11 report.
On Thursday, Humana also raised its profit outlook for 2022 for the second time in three months, sending its shares about 8% higher. The company said it no longer expects "headwinds" from COVID-19-related costs.
Part of Humana's plan to revive its Medicare franchise involves finding $1 billion in "valuation creation," including administrative cost cutting, and using much of the savings to enhance the benefits it will offer seniors in its Medicare plans in 2023. Executives on Thursday talked about the importance of having dental coverage in Humana's plans, for example.
Insurers will be begin the all-important "open enrollment" period for Medicare Advantage, when seniors can sign up for new coverage or change their plans for the following years, on Oct. 15.
Humana also laid out a long-run goal on Thursday of achieving $37 per share in earnings, adjusted for certain items, by 2025, compared to $25 per share expected this year. Prior to the announcement, Wall Street analysts were predicting about $35 per share in 2025, according to a Sept. 8 report by Wolfe Research.
Besides adding Medicare members, Humana is also looking to build up its newly named CenterWell health care services division, which includes "senior-focused" primary care clinics, its mail-order pharmacy and a home health operation formerly known as Kindred at Home.
Insurers are increasingly looking to home health and better-coordinated primary care to prevent costly hospital visits. CVS, the parent company of health insurer Aetna, announced earlier this month that it would buy home-health provider Signify Health for $8 billion.