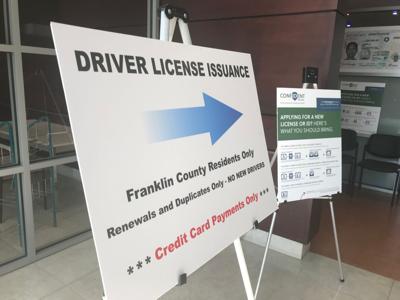 LOUISVILLE, Ky. (WDRB) — A bill introduced Wednesday in the Kentucky General Assembly would expand the list of documents people can use when applying for the Real ID driver's licenses.
House Bill 453 adds current property tax bills and car registrations, as well as existing driver's licenses, to the acceptable forms of ID Kentuckians can present to prove their name and address.
It also removes a requirement that most documents – like a utility bill – must be less than 61 days old.
The bill comes as Kentucky hustles to open regional Real ID offices across the state ahead of an October 1 federal deadline. At that point, current driver's licenses won't be accepted for boarding flights at airports in the U.S., including at Louisville's Muhammad Ali International Airport.
A Real ID, passport or military ID, for example, will be needed.
Republican state Reps. Sal Santoro, Robert Goforth and Kim Moser are the bill's sponsors, along with Rep. Joni Jenkins, a Louisville Democrat who is the House Minority Floor Leader.
They filed the measure as an "emergency" – meaning that it would become law when signed by Gov. Andy Beshear.
The bill also takes the first step towards the Kentucky Transportation Cabinet taking control of all driver's licensing operations in the state, a move county circuit court clerks support .
It calls for local clerks to stop issuing driver's licenses by June 30, 2022.
The Transportation Cabinet, which is overseeing the state rollout of Real ID, has opened offices in Frankfort, Bowling Green, Paducah and Somerset.
Sarah Jackson, the cabinet's project manager, told lawmakers earlier this month that she expects most, "if not all," of the first 12 to 14 offices across the state to open by late spring.
Jackson told reporters that two offices in Louisville are under consideration.
This story will be updated.
Reach reporter Marcus Green at 502-585-0825, mgreen@wdrb.com, on Twitter or on Facebook. Copyright 2020 WDRB Media. All rights reserved.