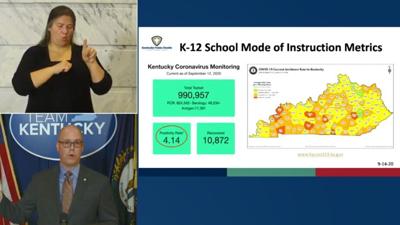 LOUISVILLE, Ky. (WDRB) — Kentucky school district leaders will soon get more detailed COVID-19 data to help them decide when to transition to remote learning, Department for Public Health Commissioner Dr. Steven Stack said Monday.
Once counties reach report more than 25 daily COVID-19 cases per 100,000 residents, schools there should transition to nontraditional instruction, he said.
The new metrics, based on local COVID-19 caseloads, will ultimately allow district leaders to determine whether it's safe to have students in classes, Stack said.
"There is not going to be another recommendation from my office after Sept. 28 about in-person or virtual classes," Gov. Andy Beshear said during a news conference Monday.
Beshear had previously recommended that school districts delay the start of in-person instruction until at least Sept. 28 based on an escalation of COVID-19 cases and testing positivity rates. Forty-eight districts have decided to reopen their classrooms before then, according to the Kentucky School Boards Association.
"What's going to be provided is the information to make a week-by-week decision in our various school districts and counties based on prevalence and what public health experts believe is the right course based on that prevalence," Beshear said.
The new COVID-19 data metric is something school superintendents have clamored for since before their districts began the 2020-21 school year.
Jefferson County Public Schools Superintendent Marty Pollio said the local COVID-19 data "gives us a clear roadmap of when we can go back to school."
JCPS started the 2020-21 school year with at least six weeks of nontraditional instruction, and Jefferson County's COVID-19 positivity rate is 10.2% as of Monday, according to the Louisville Metro Department of Public Health and Wellness.
Such COVID-19 data from the state is something "superintendents around the state have been asking for," Pollio said.
"The two data points that we'll be looking at are positivity rate and the amount of cases per 100,000, and that rubric, so to speak, gives us very clear guidance of when we can go back to school," he said.
"So we'll be monitoring that every Thursday, and it's really what we've wanted so the public can follow along on the data with us so we can get our kids back to school as soon as possible."
The Jefferson County Board of Education is scheduled to discuss plans for continuing nontraditional instruction and reopening classes, when feasible, during a work session Tuesday.
Counties will be colored green, yellow, orange or red in the new color-coded map based on their local COVID-19 experiences and only when Kentucky's testing positivity rate is under 6%. The state's positivity rate is 3.85% as of Monday.
Counties in green represent local daily caseloads of fewer than one new COVID-19 positive per day per 100,000 residents while those in yellow have new daily COVID-19 cases of up to 10 per 100,000 residents.
Schools in those counties could continue providing in-person instruction based on the state's "Healthy at School" plan, with additional mitigation steps taken in yellow counties, according to guidance from the Cabinet for Health and Family Services.
Counties will be colored orange in the new reporting metric when new COVID-19 cases reach between 10 and 25 cases per 100,000 residents per day. At that time, schools should consider transitioning to remote learning.
If schools remain open at that point, district should follow strict public health guidance like limiting class sizes, according to the state's guidance.
Schools in counties that reach red, or more than 25 daily COVID-19 cases per 100,000 residents, should transition to remote learning until their counties drop to yellow, the guidance says.
Beshear did not say whether he would order schools to close in counties that reach red in the new reporting metric, but he said continuing classroom instruction in such situations would be irresponsible.
"We've now broken it down with the data that people have asked for," he said. "If there is a system that said they wanted the data but if they're in the red they're still not going to change anything, come on. We owe a bigger responsibility to our student than that or their parents that they're going to go home to or their grandparents that they're going to see."
Parents and guardians will be required to report positive COVID-19 cases involving their children to schools within 24 hours of their results, according to an emergency regulation issued Monday.
School districts and private schools will also need to report new COVID-19 cases and quarantines involving students and staff when they return to in-person instruction, Stack said. A public dashboard will be available to view that information, he said.
While local health departments already report school-level COVID-19 cases among students and staff, the data provided by districts will be more timely, he said.
"It's also essential that parents and communities and teachers and staff have access to information upon which to form informed decisions," Stack said. "This is going to be one of those tools."
Copyright 2020 WDRB Media. All Rights Reserved.