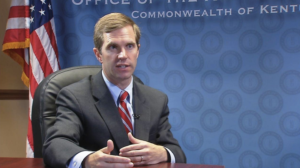 Kentucky Attorney General Andy Beshear
LOUISVILLE, Ky. (WDRB) — The Kentucky Education Association's political action committee has given another six-figure contribution to a Democratic super PAC supporting Attorney General Andy Beshear's bid to unseat Republican Gov. Matt Bevin.
Kentucky Family Values received $100,000 from the Kentucky Educators PAC on Sept. 18, according to the super PAC's latest report to the Kentucky Registry of Election Finance.
That amount, which is nearly a third of the reported $325,000 raised by the super PAC in its 30-day pre-election filing, brings KEPAC's total contributions to Kentucky Family Values this year to $300,000.
KEA, the largest teachers' professional group in the state that has endorsed Beshear, declined to comment on its latest political donation when reached for comment Monday.
Bevin's campaign did not immediately respond to a request for comment.
KEPAC is one of three teachers' groups that have pumped $1.2 million into the coffers of Kentucky Family Values and another super PAC backed by the Democratic Governors Association, Bluegrass Values.
Better Schools Kentucky, the Jefferson County Teachers Association's PAC, and the National Education Association Advocacy Fund previously gave Kentucky Family Values $300,000 each, according to the super PAC's 60-day pre-election report to KREF.
The NEA Advocacy Fund also contributed $300,000 to Bluegrass Values, per the group's 60-day pre-election report.
The super PACs have thus far taken a two-pronged approach in their support of Beshear, the first-term attorney general who has made education a central plank of his gubernatorial campaign.
Its latest KREF report shows that Kentucky Family Values spent $390,000 of its $447,668 in expenditures on field operations, and of the $1.7 million that Bluegrass Values reported spending in its latest KREF filing, $1.6 million went toward media buys.
The DGA has ramped up its spending in Kentucky in the past month. According to its 30-day pre-election report, Bluegrass Values reported receiving more than $1 million from the DGA, bringing the group's total reported contributions in the state to $1.7 million this year.
That amount, however, is dwarfed by the millions invested thus far by its GOP counterpart, the Republican Governors Association.
The RGA, through its Putting Kentucky First super PAC, has put nearly $6.3 million toward its efforts to get Bevin re-elected, according to KREF filings. Of that amount, $6 million has come since the May 21 primary.
Bevin and Beshear will be on the ballot Nov. 5.
Copyright 2019 WDRB Media. All Rights Reserved.